What are Sprockets?
Sprockets are a profiled wheel with teeth that mesh with a chain. The sprockets are mainly used in the mechanism of machineries such as a Bike or car and they help in the smooth functioning of the gear transmission and other rotation of the wheels. The most common form of sprockets can be found in the bicycle where the pedal shaft carries a large sprocket wheel.
Juelang Sprockets is involved in manufacturing of motorcycle sprockets and they have offer sprockets in New Zealand, India, USA, Europe, China, and Australia. With the best-in-class services, we offer motorcycle sprockets and chains various brands like Honda, BMW, Kawasaki, KTM, Suzuki, and Yamaha to name a few.
JL Steel Sprockets are produced using only the finest grade of carbon steel for the Front Steel Sprockets and Rear Sprockets and one can make purchases from 45 Steel Sprockets and make proper use of the products for their vehicles. You can opt for the Best Steel Sprockets from JL Steel Sprockets and use them for your personal benefits.
JL Sprockets make use of 45 steel just to ensure that they offer the best Front Steel Sprocket to the customers. One can select from the 45 Steel Sprockets and choose the best for your motorcycle performance. 45 Steel has excellent corrosion resistance and can withstand high temperature.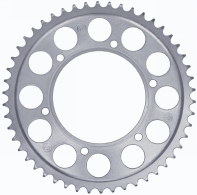 Rubber cushioned front sprockets
At Juelang Sprockets, we master at manufacturing Rubber Cushioned Front Sprockets. Rubber cushioned sprockets are widely used by the major Japanese motorcycle manufacturers such as Kawasaki and so on. They are mainly used to dampen the chain impact on the teeth of the front sprocket. Juelang Sprocket releases Rubber Cushioned Front Sprockets in the market. These sprockets are never compromised with their quality and design. These sprockets are the same that are used by the motorcycle manufacturers and genuine replacement parts. Surf through our website and get detailed information about these products
Aluminium Racing Rear Sprockets
JL Sprockets is the world's largest brand of sprockets that offers branded and reliable sprockets for motorcycles and ATVs. We use the finest raw material along with cutting edge technology for the production of Aluminium Racing Sprockets. The Aluminium Front and Rear Sprockets are made from advanced aluminum alloy and they are carved into a lightweight design for optimum performance and lifespan. All the Aluminium Sprockets are made from Aluminium 7075-T6 and they offer best-in-class results.
The features of Aluminium Racing Rear Sprockets involve increased strength and durability along with excellent reliability and long lasting quality. We design these sprockets by hobbing, machining, and drilling to achieve the closest of tolerance and most accurate teeth profiles.
JL Sprocket offers 20CrMnTi Font Sprocket are light weighted high-performance sprocket used for added horsepower for the front wheel. They are enriched with self-cleaning grooves to clear out mud and increase the sprocket life. All the 20CrMnTi Steel Sprockets are made with best-in-class 20CrMnTi Steel. The 20CrMnti Front Sprockets are made by machining center to gain more precise dimension and surface than common machine work. These sprockets are mainly used for dirt bike as with their feature of self-cleaning, they help in enhanced performance of these vehicles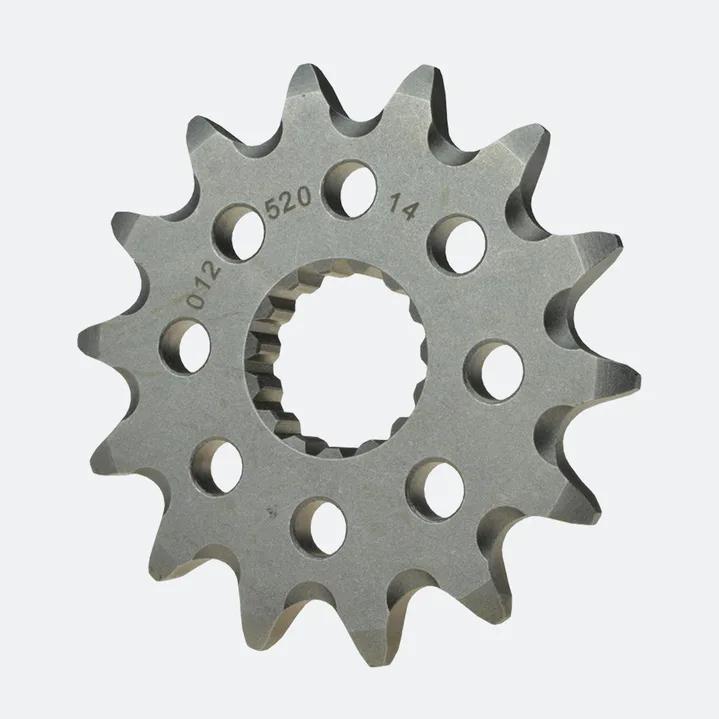 We combine our expertise and the light weight of the carbon fiber that makes our sprockets durable, ultra-strong and light-weight. Our Carbon fiber Sprockets are able to give the best performance on your motorcycle. 
Sprockets- Luxury Craftsmanship
At JueLang, We appreciate in the art and development of new design and respect the different design requirement of the rider/motorcyclist. Therefore, If you want to make your own personalized product. Choose from our design or send us your own design and we can develop that design and make the specialized Luxury Sprockets for you.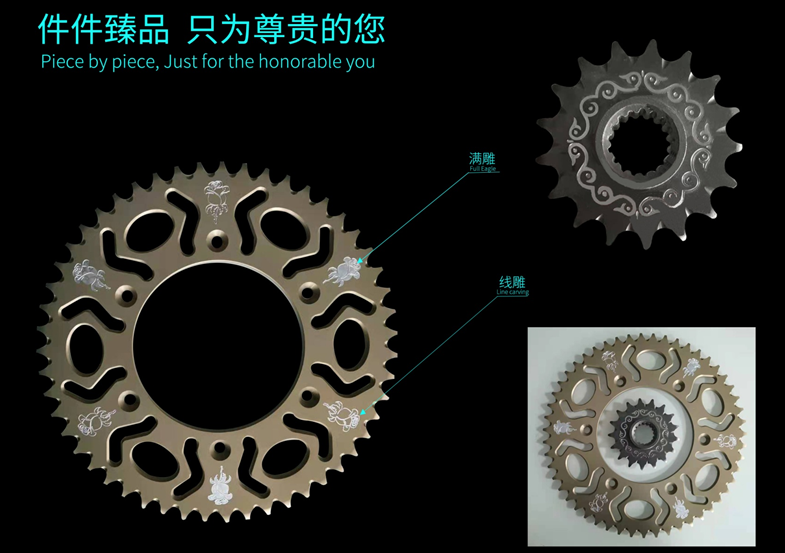 For Immediate Sales and Support Inquiries, Feel free to contact us